News
Creation of CTEco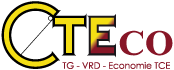 CTEco works in the field of the all trades construction economy.
Recent changes in different regulations have created interactions between different design fields. This situation, which comes at the same time as growing demand, has led us to develop our activities into general earthworks and external works studies either on a one-off or a more regular basis.
With several years of experience behind us, with this agency we wish to offer our customers the benefit of all our experience in these essential areas in the construction business as well as an optimised technical and financial approach.