News
Creation of CTE PARIS
On 1 March 2017 we saw the opening of our new subsidiary CTE Paris, led by Gurvan SAYER, Senior Engineer, CHEC - CHEBAP and member of the Committee on earthquake standardisation CN/PS. The agency's headquarters are in Nanterre.
This new subsidiary is part of our commitment to the Group's development, in particular our wish to be able to offer a local service by being closer to our customers.
CTE PARIS will work in the field of structural engineering (detailed planning and project management for public and private projects)
By opening this subsidiary we hope to offer our customers all of our experience in these areas for large-scale and high-tech sites
Creation of CTEco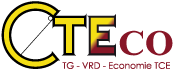 CTEco works in the field of the all trades construction economy.
Recent changes in different regulations have created interactions between different design fields. This situation, which comes at the same time as growing demand, has led us to develop our activities into general earthworks and external works studies either on a one-off or a more regular basis.
With several years of experience behind us, with this agency we wish to offer our customers the benefit of all our experience in these essential areas in the construction business as well as an optimised technical and financial approach.